Archidekt and EDHREC Announce Partnership
This was originally published at Archidekt on April 8th, 2019
The Archidekt team is excited to officially announce our partnership with EDHREC!
tl;dr
If this is your first time on Archidekt, hit up our home page to view decks or try out our deck editor.
You can now view EDHRECs for your current deck directly in the left side panel.
We've partnered up with EDHREC to share data and work on more integrations in the future.
If you're an EDHREC user, you may have noticed that Archidekt has been a data source for a little while now: The recommendations you see on EDHREC already have Archidekt data flowing into them.
Today, we're pleased to finally unveil our in-editor integration with EDHREC, now available with any EDH deck open on Archidekt. If you open up the "Recs" tool on the left side panel, you will see a tab-- appropriately labeled "EDHREC"-- with a familiar icon. Clicking this will send off the cards in the current deck to EDHREC where card recommendations are compiled and sent back for you to browse and add to your deck. Take a look: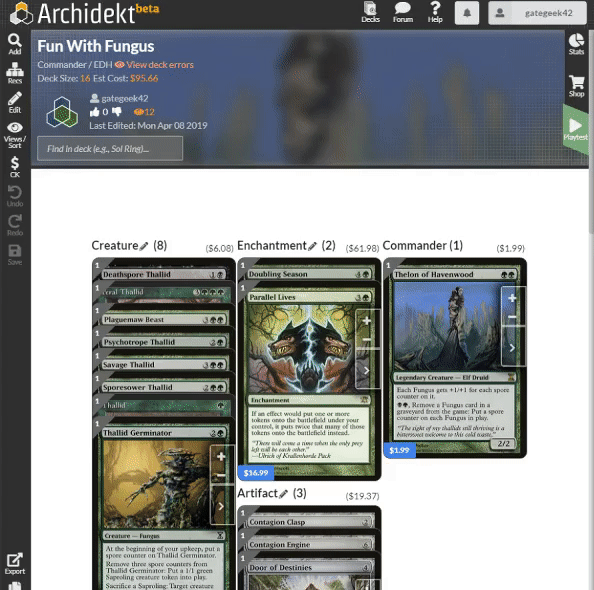 These are the first integrations of many more to come on both Archidekt and EDHREC. We can't share details right now of what those might look like, but we'll be sure to post some previews as they progress through development.
We'd like to thank the EDHREC team for being such a pleasure to work with. Throughout this whole process, they've consistently expressed a commitment to cultivating better MTG tools for the community. That's exactly what we strive for here at Archidekt, so we're excited to see what more we can make together moving forward!
Thanks for reading!
Andy
Archidekt Development Team Lead